Hi guys, I'm having trouble opening this .avi files from my very old camcorder Samsung.
Are MPEG-4 with avi envelop. Codec is SEDG.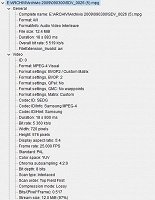 I uploaded a little clip so you guy can help me to check if your vegas can open it.
Here is the link to download it. Is 12Mb.
Converting it in Vegas compatible format is not a solution since I have years of footage. Im planning to edit this material frequently and it will take a life to convert the files.
Can you guys help me? Do you have a good codec that I can Use?
Im using Vegas 13.0 - 64 bit on Windows 10. I tried to install common codec ffdsshow but it doesn't work.