I have not the plain Movie Studio version with buildnr. 108, but the Platinum version.
So I don't know if there comes a second screen after you choose for Save it to my harddrive, which I get, see this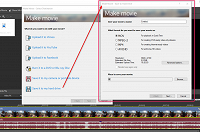 From your words I understand that your program freezes af that first click on Save it to....
Is that right or did you get a second screen?
If so, can you give a sreenshot of it?