All of the sudden, some things are showing up missing in my project. like this: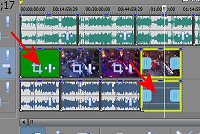 the source files are fine, it's only Vegas that is having a problem viewing them.
I delete the clip from the timeline and re-load it, but it still shows missing data.
i've tried rebooting my entire computer, and recreating the entire project, also I deleted the sfk files to see if that would help.
please, any ideas?
thanks