Hi, Simple question but I can't find the answer anywhere. Vegas Pro 16.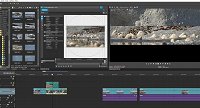 As you can see in the screenshot I have 2 clips in 2 video channels. I have cropped one (background) so it occupies the top half of the screen. In front of it I have cropped another file so it forms a bar across the middle. I want to move this to below the first file. I can move the 'crop' to do this but not with the content of the crop - i.e. the crop selection goes to the bottom of the file rather than transporting the content of the current crop.
Hope this makes sense...
Paul