Three months into this issue and Vegas support has not been able to help, nor has Google and Youtube searches.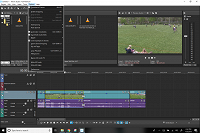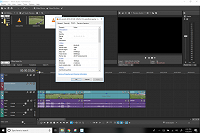 When I add clips to a project they show up as audio only. I have this problem with Gopro clips and clips that I record from VLC (I use VLC to watch a clip then use the record feature to save a shorter clip). See pic #1 attached.
Video is not muted (see pic #2)
Gopro clips are recorded in 1920x1080. I've also tried 4k recording clips and have same issue. (see pic #3)
VLC clips are 1280x720. (see pic #4)
Vegas support suggested the following, which did not work
"To resolve this issue please do the following.  Right click on the VEGAS desktop icon. Select Properties in the context menu, then the Compatibility tab. Check the option "Override high DPI scaling behavior". There is a drop down menu that will become active. Select "Application" from the drop down menu. Click apply and OK."
Adjust the resolution of the screen to the following parameters:
Screen resolution 1600x900 and set scaling in Windows to 100%, then try running the software again.

If the black preview screen is still prevent let's have you try resetting the program then to make sure there isn't a cached or corrupted setting causing the issue.

To reset all preferences, settings and window placement back to their original state, close the program. Hold down the CTRL+SHIFT keys and then start the application while still holding CTRL+SHIFT. When the program starts to load, you will see a window that asks if you want to reset all preferences to default values. At this point, you can let go of CTRL+SHIFT. To fully reset all defaults, make sure that 'Delete all cached application data' is checked. Then choose Yes. 
My system
Vegas Movie Studio 16 (build 109)

Operating System
  Platform: Windows 10.0 (64-bit)
  Version: 10.00.17134
  Language: English
  System locale: English
  User locale: English

Processor
  Class: Intel(R) Core(TM) i7-8650U CPU @ 1.90GHz
  Identifier: GenuineIntel
  Number of processors: 8
  MMX available: Yes
  SSE available: Yes
  SSE2 available: Yes
  SSE3 available: Yes
  SSSE3 available: Yes
  SSE4.1 available: Yes
  SSE4.2 available: Yes

Display
  Primary: 1500x1000x32

Memory
  Physical memory: 16,309.0 MB
  Paging memory available: 18,741.0 MB