Background
Color film photography turned into a mediocre experience for many consumers because of the things that happen to color prints over time. The marketing gimmicks used to sell us lots and lots of photofinishing in the late 20th century (remember "100 Year Prints: and "Century Prints" anyone?) floated a big promise with little substance for consumer hopes past the ten year mark, if that.
The Quick Fix
Scan 1 shows a typical mid-northern hemishphere daylight scene shot in 1981, and printed by me in all-Kodak processes, and kept in an acid-free, formaldehyde-free album. The destruction of the cyan-red axis is pretty obvious, the lead culprit being leuco-cyan dye. "Leuco" or "leuko" means "invisible," or in this case "missing." It is the inevitable effect of consumer photofinishing safety practices since the 1950's (an in-depth sidebar will appear below at some point). The visible cyan dye that gave your prints those full, rich, colors 40 years ago is now more faded than our memories of the event, which were really pretty accurate.
In Photoshop, Autocolor will set your black points automatically.
This will not work well at all with prints from overexposed or heat damaged film. Simply too much missing color information.
Can be done manualy with Levels and histogram for each color channel in either Vegas or Photoshop. Be conservative, we dont want to crush the shadows, just tame the warm glow. This works, because the losses are more or less linear. Although if someone has a pet curves preset they want to share, I would like to see it.
Setting the Cyan black point in Vegas: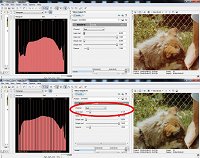 [EDIT] Now that I have my black levels and rgb gamma tweaked and saved to Autocolor, I applied a 1.01 Red gamma curve to tip the upper values back toward neutral. Any more than that would be a recipe for disaster.[/]
Now you're all set. The red-cyan axis is more linear. It is also a bit tipped toward cyan in the highlights, as the prints back then were designed to be (another anti-leuco trick). YThe green bias in the vector is just the grass and trees; 'tis nice to know what you're looking at. There may more sophistocated tweaks using curves, but this is close enough for batch scanning the several albums I hope to reprint this fall and winter.
COMING NEXT
But wait! Why do color prints from 1954 still look this good while everything else turned to crap? Stay tuned.