This is just for testing the ability to edit post.
According to this post: https://www.vegascreativesoftware.info/us/forum/editing-posts--103125/ - the first post can't be edited, and including our previous posts since SCS forum days. But comments is editable, including old posts.
Set
Edit: Ok, there's a big Red 'Edit' button appear on the right side of this post. So it can be edited.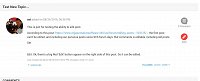 Unfortunately, old post, like this one for example: https://www.vegascreativesoftware.info/us/forum/editing-is-easy-oh-wait-really--102604/ - is not editable? Probably a bug? (Browser: Google Chrome) (tested in Mozilla Firefox as well - same result: not editable)