I have Sony Vegas Pro 15. Recently I have started to encounter a problem where I clip a video and after the split the preview shows a darkened and almost photo negative type image to the video. The audio plays along fine but the video has this horrible look for a little. Then it goes to normal but might get this washed and photo negative look again with a very black center to it.
This seems to happen when I clip (press s) a video and then move the parts together again.
It renders into the final video and looks horrible.
I am trying to upload a screen shot of what is happening. This is very frustrating and I have not found any information in a lot of searching online. Mainly because I am trying to describe what is happening.
You can see from the image I am providing that it seems to splotch itself around on the video for a bit. It will move around and will go away after a moment. I could cut it out but then it will do it on the freshly cut sections. I tried to use red arrows to show the general region where its happening. The image is a night time minecraft scene. So I have provided a second image of it happening on a day time scene. In the day time image the entire screen is messed up and the colors are all wrong and goofy on top of the black blotches.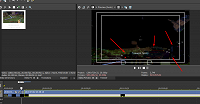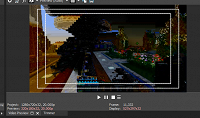 As is requested for a thorough response I am providing media information and properties. The media info output file is split into two screen shots because of the one lower section not being in view without scrolling.