Does anyone noticed scope's UI "flashing"?
Scopes docked top left with Projects media & Co and option Updated scopes while playing is turned ON.
So when I play media on time line, scopes UI is a bit flashing. It is noticeable on labels inside the UI ("Waveforms", "Spectroscope") and on graphs themselves. I'm not talking about the scopes itself, but the canvas where the scopes shown. It looks like the canvas sizes are slightly changing. Especially noticeable on the right and bottom edges (as on picture):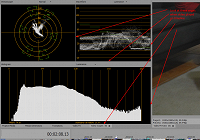 Demo:
In VP15 the labels are also flashing, but the canvas not changing its size.
Anyone confirm?