93 Forum posts
2 Tutorials
6419 Comments
1172 Thank you
143 Solutions
About me
» Everything I ever did to make a living is now just a bunch of expensive hobbies. «

≈ Favorite saying, "Trust me, I'm a producer." ≈
My interests
Retired Musical Director & Producer, Phototechnical Field Engineer and Production Supervisor, Nonprofit Director and Grant Administrator, G/T/2E Educator, Administrator, and Developmental Intervention Design (23 years).
My signature
-- AFM, ASCAP, BMI, ACB, Retired in good standing
Regional Music Direction / Production Credits: West Side Story (1996), The Who's Tommy (1998), Anything Goes (1998, 2000), Suds (2001), Joseph... Technicolor Dreamcoat (2002), Fiddler on the Roof (2003), Little Shop of Horrors (2004), South Pacific (2005), Hello, Dolly! (2005), Grease! (2006), The Sound of Music (school) (2007), Jesus Christ, Superstar (2007), A Funny Thing... Forum (2008), The Fantasticks (1967, 2009)
-- Film and Imaging QA / Technical Training Certifications
Technicolor Corp., Eastman Kodak, Inc., Noritsu, Pako, Hope Industries, Gretag Macbeth, CPI, Pallas Chicago/Denver, Phototron, QMI.
-- A few of my personal Mentors (including a couple I ticked off):
Frank Ishihara, Mike Spencer, Mickey Pallas*, Ted Alexander*, Jim Bragg, Dan Benson*, Jake Balzer, Th.D.*, Fay Smith, M.D.*, Dewey Hatch*, the spirit of Thomas Frosted (White Bear)*, John G. Neihardt*, John Meyer, Teryl Gorrell, Anne Casebeer*, Students who dared, and a couple of annoying Muses*.
My Vegas Articles
UPDATED ~~ Fixing the "Pale Screen of Misery" ~~
Why don't my broadcast and PVR recordings work in Vegas?
NEW! Free Video Levels Tool for Vegas
HDR to 8 Bit Grading Tip -- Reclaiming the Shadows
Monitor Calibration on the Cheap -- a Windows 10 Tutorial
New Users Please See the Tutorials First
Software Deinterlacer Shootout 2019
Convert 60p to 60i Sample Project
Wagging the Dog -- Effects of Hyperoptimal Upload Bitrates on Youtube Quality
RGB / YUV Intermediate Codec Shootout - 2018
Speaking Good Video -- a Beginner's Guide
PC to TV Levels -- A Comedy of Errors
10 Bit vs. 8 Bit Grading -- The Musical
Seven Lossless Codecs Rendering Comparison (2011)
Monitor and Viewing Conditions for Color Correcting (not updated yet)
My free dual range RGB YUV grayscale and stepwedge for handoff, screens, and printers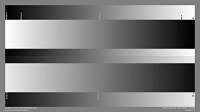 Vegas to YouTube Tutorial (2011, not updated)

Better Clipping Demo (using Photoshop Action)
Other Published Resources Compiled by Nick, Set, et al​​​​
How to Disable so4compoundplug.dll
How to Post File Properties in Vegas
How Can I Reset Vegas to Default Settings?
VEGAS PRO FAQ AND TROUBLESHOOTING GUIDES
IMPORTANT! INFORMATION REQUIRED TO HELP YOU
Official Vegas Video Tutorials
Tested OBS Studio Settings for Vegas