Sir: (Pascal?)
I am glad to meet you!

I am the most polite person, but the volunteer moderator (fr0sty) was going after another forum user, and I told him that his reaction was too harsh, and not "reading" the user's actual words, but twisting the user's ideas a bit, mistakenly perhaps. He then took to going after me and issuing me a warning, and I told him he was, again, going too "aggressively" when there was no real need. (towards the other guy and now towards me). I don't think he liked that.

NOW, I KNOW there is a high level of dissatisfaction in the Vegas forum. I KNOW developers are doing a good job, perhaps understaffed. But my legitimate criticisms, under this recent climate of dissatisfaction, were now being challenged and scoffed at, so my OVER REACTION was more to THEM, (calling me a liar, in effect) than towards Vegas itself, and yes, I could have chosen my words more carefully, you are right.

ZDOGG is me, and I have been banned, or blocked, by fr0sty, I believe. I told him in a message that I have been with Magix (Samplitude) for eighteen years now, and I have never once been accused of anything resembling impolite, though I do tell the truth. I have been with Vegas the same amount of time.

I LOVE Vegas, like you might, as a soccer fan, like Messi, and maybe your team is Bayern Munich, and BM buy his contract from Barcelona, and he comes to Germany, but the Munich coach won't let him play. You pay your money, you go to the game, you know Messi can still play at a high level, but the coach keeps him on the bench. As a fan, what are you going to do? Congratulate the coach? NO, you are complaining the whole week.

They tell you, come back, next week, Messi will be ready, you buy another ticket, and same thing, NO MESSI...and you are now even more angry....NOT because you don't like Messi.

The coach does this for the next sixteen weeks, the season is over, you saw Messi play about twenty minutes, pretty good, no goals, The season is over. No champions league, nothing.

Now they write you and want you to buy a season ticket for NEXT YEAR, and Messi will be playing!!

AHHHHGGGGGGGHHHHHHH you say!!! ahahahahahaha...

That fan is ME, and this is after EIGHTEEN YEARS of using VEGAS, from Vegas 4 till now.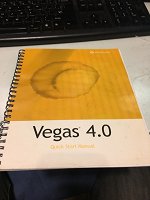 I would ask that you relax the ban on old Zdogg, Zdogg is a VERY Loyal Vegas user, I have promoted Vegas over the years on the Samplitude forum (I use the same name, go see, I'm very polite)....https://support2.magix.com/boards/samplitude/index.php?/profile/1013-zdogg/

Anyway, a lot of what works well on the Samplitude GUI could work equally well in Vegas, and I would be glad to share some of my ideas along that line. So far, the interface seems to be a low priority, but the interface is really why many leave, say, Premiere, and try something else. They don't like the Premiere GUI, (or they do, and they stay) The interface is really critical to growing the base of users, IMHO.....but it gets almost no love, other than NEW stuff that not too many want/need (storyboard, hamburger menus) How about a Samplitude-like "range" selection...and I have other ideas. These would SPARK the program


Anyway, did I say MESSI?? Yes! because Vegas can SCORE, and score big....but not with a broken leg.

Ich hoffe du hast einen tollen