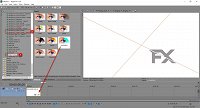 With the updated installer for New Blue Titler Express that came with VP14 Pro I saw a new FX in all my Vegas versions.
See screenshot (1).
That one is exactly the same as the number 2 on the screenshot from the NewBlue Starterspack.
Both are activated, but 1 is not working, 2 is working.
To prevent becoming psychotic and to stimulate being psychedelic, I have to keep a well documented administration after a install of a NewBlue "thing".
Everywhere in Vegas installations NB-options show up, some will work and others don't.
Untill now I had only one method to get rid of that rubbish in my interface: deïnstalling and deleting.
Is there another way????