I'm having Windows 10 BSD problems that seem to happen only after (not during) running either VMS17(204) or Pro 19(532). I've been running those 2 versions for many months. The BSDs happen at seemingly random times, even during shutdown. Both editors still have their VERY frequent crashes, the the BSDs occur even with clean-boot, non-crash sessions.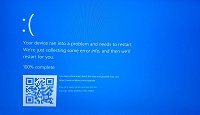 I obviously suspected the video driver, or something stepping on it, which had not changed in over a year. I updated the driver and the problem still exsists. There have been several recent Windows updates.
After a clean boot, I've also run Photoshop CS6 and a recent version of MS Flight Sim (the only "game" I have) with no BSDs.

Before I go any further I want to anticipate your 1st question and ask the best way/app/procedure to capture my configuration to add to my profile, long overdue. Then please bear with me since it may take a while before I respond with all the details.
Thanks!