There is a bug in the Bezier masking plugin.
On the Video Event FX chain, when I put the Bezier masking plugin before Pan/Crop, this plugin don't recognise no more the Animation of keys.
Here an example without animated key.


In this way everything works.
But now I would like to make appear progressively the highlighted block of text. I mean, I want start to see the whole sheet normally and after one second a rectangle will highlight the first paragraph. Then on the "Blend" option I activate the "Animate" button and create a second key-frame with another value. Here comes the bug, There is no transition and the plugin stuck.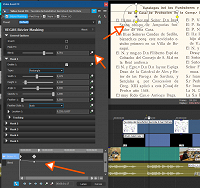 This bug appear only if I put the Bezier maskin FX before the Pan/Crop in the chain of FX.
Vegas Pro 17 build 452