I'm seeing a weird problem in Vegas Pro 17 (build 284).
I have some old media bins in the Project Media window that I'm not using and I wish to delete them but the Delete command is grayed out. Pressing the Delete key doesn't work for these folders either. Also, one of these bins contains many 'ghost' files that I cannot seem to delete.
Here's a screen cap of what I'm seeing in Project Media right now: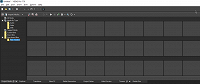 What I wish to remove specifically is Custom Bins, Storyboard Bins, Main Timeline Bins and all the 'ghost' files inside Timeline Bins. If I create new folders inside any of these folders, I can delete the new folders but I still can't delete these existing folders and files.
Any idea what I can do about this? I'm wondering if the folders exist somewhere in a user preference folder and are locked, but I haven't been able to find this yet.
Thanks in advance for any helpful information.