We're evaluating new DVD/BluRay authoring software since Adobe stopped supporting theirs. We're trying to install the trial of version 7.0.0 Build 100 to see if our editors like it but It refuses to install with a Invalid Drive: H:\ error.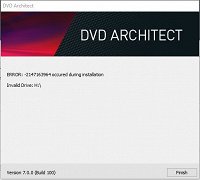 Drive H:\ is a mapped drive on a network share in our Active Directory domain. Is this a problem? Is there a workaround (other than moving H: to a local drive which ISN'T EVER going to happen)?
Client machines are all running Windows 10 v1903. Network share is on a Windows Server 2016 box using SMB2/SMB3 only. Connection is over a 10GbE network.