Hi Guys,
I'm using VEGAS Pro 14 to cut together footage of a live music concert.  This is my first time doing a 3-camera shoot, and I've hit a roadblock trying to figure out the best workflow with colour correction, multicam editing, and digital zooming, and would appreciate some advice.
Background:
Project output resolution will be FullHD.
Camera A (on take 3) is the static shot mostly, but has 4K resolution so I'm hoping to be able to do some digital zooming and smooth digital panning at times.
Camera B (on take 1) is a FullHD camera, and requires significant colour correction.
Camera C (on take 2) is a SD camera but has a mighty powerful optical zoom for odd use.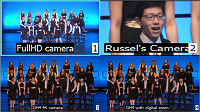 Issues:
·         I've duplicated Camera A to another video track with the intention of adding digital zoom and panning.  I'm trying to add it as take 4 in a multicamera edit allowing me to fade between the 4 takes, however, every time I enable Multicamera editing, I get a message saying "Some items (such as envelopes, effects, or motion) will be lost during this operation. Continue?" 

All my digital zooms and pans on the 4th camera track get destroyed, whether it be track motion or event motion.  Is digital zooming completely incompatible with multicamera editing? 
·         I should note that my GH4 footage is split into 4GB files by the camera, and there doesn't seem to be any way to join the 4GB chunks together into a single event in VEGAS.  This project has twenty-one 4GB files which are all regarded as separate events, so to try to do digital zooming at an event level becomes problematic at event boundaries, so track motion is/would be much better – if it was compatible with multicamera editing. 
·         The colour correction of Camera B is extremely difficult to get it matching Camera A, especially when the lighting guy has been so 'creative' with a different colour scheme for every piece of music.  I can get it mostly ok with a colour match at a track level, but it seems there's no simple way to view both sets of footage side by side to check it while scrubbing through the footage.   Multicamera editing mode conveniently places them side by side, but then I lose the ability to edit the track's color match after enabling multicamera editing.  Tweaking colour correction at an event level becomes impossibly complex after the events have been split into 100 segments by a multicam edit.  I've attempted to apply a Color Match Media FX directly to the media file in the Project Media list, however, it seems to have no effect on the footage I've added to the timeline.  I've resorted to reverting to a previous version of the project prior to enabling multicamera editing to attempt to finalise colour correction, but I still need to be able to tweak it afterwards.  How am I supposed to be able to tweak colour correction at a camera level after doing a multicamera edit?
I can't seem to figure out an efficient workflow to deal with all these issues, and I'll appreciate any advice.