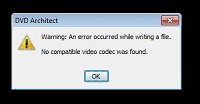 I have not managed to create any multi angle BD - regardless of file format or source.
DVDA 7.0 build 38 crashes in larger projects, and in small projects it gives the error "no compatible video codec was found".
If I split the same source files into 2 separate movies on the same BD, it works fine.
Is this only an issue for some, or is this actually broken for everyone?
Can you test? :)

EDIT: checked on second machine. same error. screenshot attached.