In those days when I used mostly (Sony) Vegas Movie Studio, I created following 3D intro effect with VMS12 32bit and the free plugin PluginPac 3D LE from Debugmode, which made creating such 3D effects possible without much knowledge. Unfortunately this Plugin worked only with 32bit Vegas applications.
Here's a screenshot of the project timeline (I just reinstalled VMS12 trial for this purpose) and a short example of what the effect does.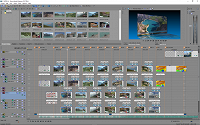 Is there an easy way to achieve this with todays Vegaspro18? My trials with 3D Source Alpha of Track Motion all failed.
Who can put me in the right direction?