Version: 14.0 (Build 270)
So about a month ago I got a new monitor. i've been using Vegas for probably a year and a half now and never had any issues with it that I didn't cause myself. But this one I can't explain. I've tried uninstalling (including using Revo Uninstaller just to be sure it got rid of any residual files that may have been screwing with it) and reinstalling and still I come back to this problem.
The moment that I start editing a preview, everything goes out of focus and blurry and while yes, the render looks perfectly fine. When I'm editing it is so distorted that I can't see what I'm working with.
What it looks like after a render.
What it looks like when I'm looking at it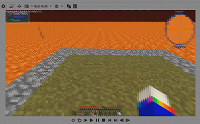 I really need this resolved because I work with more than just gameplay footage and it's the most obnoxious thing I have ever come across. It's not something like my computer being unable to handle it. It's some sort of visual error in the program that I don't know how to fix.