It crashes randomly, like what a lot of people are saying, so I have discovered. Mine did a big crash and ever since - this problem happens. Anyway, Error 740 is stopping me open up my software, and I haven't owned it for very long.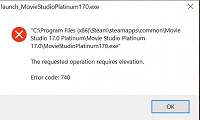 I own the Steam version, I must stress that. And I have already given the thing admin privileges, that's like the first thing you do, after a verifying of all local files via Steam.
My PC, Win 10 home, I9 9900k, 2080TI, 32GB Ram
It seems like a good software, but this crash and the many crashes people are having must be very frustrating.
Any help anyone can give would be much appreciated.