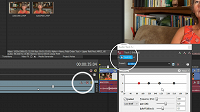 Dear Vegas Pro users.
Recently I purchased version 18, but I have a problem making changes to an audio track.
I can make the track EQ on an entire audio track, but I cannot make changes in the high and low tones. I can also apply the limiter, but it cannot be adjusted on the entire track. In the photo you see a red cross (circle) on the audio track next to the plug-in. The pop-up shows track muted (circle). How can I fix this?