Hello Everyone,
I've been working on menu button highlights in DVD Architect 7 (build 100). The menu video was authored in Vegas Pro 16.
I can get the button highlights to function OK in terms of appearing when a button is selected and changing color to anti-alias settings when buttons are clicked. I've also been able to use custom images for the highlight masks.
The problem I'm having is with the low quality of the highlight images when they're displayed. They're grainy, pixelated, and look very lo-res compared to the source graphics. I've tried using different image editors, different graphic resolutions, different image file types, etc, to no avail. No matter what I do, the highlight images look terrible in the menu display.
Here are caps from DVDA showing the menu, buttons, and button properties:
1. Menu frame. Buttons are in lower right, "Q5" labels on first button are the highlight image. There's no button image or text. "Play" is in the menu graphic.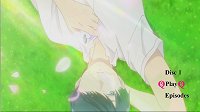 2. Buttons closeup with highlight source image. Here you can see the low quality of the "Q5" highlight image compared to the "Play" text, the menu background, and the original source image for the "Q5" highlight.

3. These are caps of the button properties: media, highlight, color sets

Anyone have any idea how to produce better-looking highlight images? In particular, if there's any other additional info about what I'm doing that should appear here, please let me know.
Thanks for your time and patience,
Alan Mintaka