Where can I see these CONTROLS having an effect?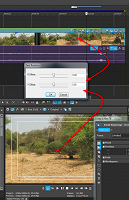 The next screen, after I accept this, is this:
Now what? It's not in the position I require? I know I can change the LOOK of the TEXT, through the GenMed Controls, but I can't reposition this PLACEHOLDER and it to remain linked to the Motion Tracking I've created. It's as if the TOPLEVEL Positional Control is set and can't be played with. OK, I could accept this if it wasn't for the fact that I don't have an option to view just where the INITIAL adjustments would place it.
Your feedback is most welcome.