I had troubles to render to higher dimensions than FHD with Magix AVC or HEVC with the Nvenc option in Vpro 18, but not in VPro 16 and 17.
I went back to driverversion Studio 441.66 and renders go again good and fast in all programs.
VPro 18 is still saying to update both my GPU options, but when I did that>>>> trouble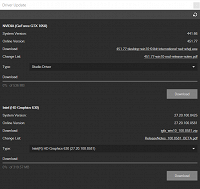 Going back with the Intel changed nothing ( QSV options gave not those problems), but going back with the Nvidia driver cleared all my problems.