Hi,

Vegas 18 have a new 8 bit full range option. This is great, because I no longer have to use this level trick (Studio RGB to Computer RGB). But I can not rendering my videos. You can see the problem here: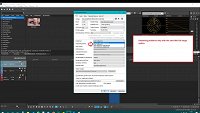 In ENG: The system does not have enough memory ...

I want to render UHD with NVIDEA NVENC (AVC/AAC MP4). But it doesn't work even without GPU support.

I have a Ryzen 7 1800x and a GTX 1080. I want to render a Testclip (5 seconds and 8 MB).
EDIT: If I set "dynamic RAM Preview" to 0, than I can fix that problem. I hope, Magix can fix that problem / bug soon.

Thank you!
PS: Same problem now in "old 8bit Video range". No problems with VP17