Hi all
I got a 2 track multicam to edit, with MXF HD footage made on a Panasonic.
Every time I try and synch the 2 cams on Plural eyes, V20 crashes. Shortly after PE is preparing the sync, there is a message in PE " vegas is working", which never appeared before in working with PE. The message then changes to:
"Operation is taking longer than expected. Do you want to terminate Vegas?"
I never had PE crash Vegas before.
The exact same thing happens with AudioSyncR.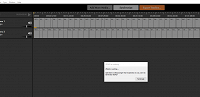 Same in V19. So I suspect a codec issue, as the bug report mentions So4.
Any ideas?
Thanks!
Vegas eventually then crashes. here's the log:
xtra Information
   File:                C:\Users\Ultraman\AppData\Local\VEGAS Pro\20.0\fileio_x64.log
   File:                C:\Users\Ultraman\AppData\Local\VEGAS Pro\20.0\persist.prefs
   File:                C:\Users\Ultraman\AppData\Local\MAGIX\FileIO\1.0\So4HardwareDetectionError.log
   File:                C:\Users\Ultraman\AppData\Local\MAGIX\FileIO\1.0\So4HardwareDetectionOutput.xml
   File:                C:\Users\Ultraman\AppData\Local\VEGAS Pro\20.0\dx_video_grovel_x64.log
   File:                C:\Users\Ultraman\AppData\Local\VEGAS Pro\20.0\svfx_video_grovel_x64.log
   File:                C:\Users\Ultraman\AppData\Local\VEGAS Pro\20.0\ocio_x64.log
   File:                C:\Users\Ultraman\AppData\Local\VEGAS Pro\20.0\dx_grovel_x64.log
   File:                C:\Users\Ultraman\AppData\Local\VEGAS Pro\20.0\vst_grovel.log
   File:                C:\Users\Ultraman\AppData\Local\VEGAS Pro\20.0\vegas_script_x64.log
   File:                C:\Users\Ultraman\AppData\Local\VEGAS Pro\20.0\gpu_video_x64.log
   File:                F:\vegas projects\IZI-DP.veg
Problem Description
   Application Name:    VEGAS Pro
   Application Version: Version 20.0 (Build 403)
Fault Process Details
   Process Path:        C:\Program Files\VEGAS\VEGAS Pro 20.0\vegas200.exe
   Process Version:     Version 20.0 (Build 403)
   Process Description: VEGAS Pro
   Process Image Date:  2023-05-04 (Thu May 04) 05:23:48
Here's the mediainfo of the footage:
eneral
Complete name                            : H:\Cam 01\01\CONTENTS\VIDEO\0131YO.MXF
Format                                   : MXF
Format version                           : 1.3
Format profile                           : OP-Atom
Format settings                          : Closed / Complete
File size                                : 3.40 GiB
Duration                                 : 2 min 8 s
Overall bit rate                         : 227 Mb/s
Package name                             : 0131YO
Encoded date                             : 2023-05-03 09:42:42.000
Writing application                      : Panasonic P2 2.0
Video
ID                                       : 2
Format                                   : AVC
Format/Info                              : Advanced Video Codec
Format profile                           : High 4:2:2 Intra@L4.2
Format settings, CABAC                   : No
Format settings, GOP                     : N=1
Format settings, wrapping mode           : Clip
Codec ID                                 : 0D01030102106002-0401020201323104
Duration                                 : 2 min 8 s
Bit rate                                 : 227 Mb/s
Width                                    : 1 920 pixels
Height                                   : 1 080 pixels
Display aspect ratio                     : 16:9
Frame rate                               : 50.000 FPS
Standard                                 : Component
Color space                              : YUV
Chroma subsampling                       : 4:2:2
Bit depth                                : 10 bits
Scan type                                : Progressive
Bits/(Pixel*Frame)                       : 2.193
Stream size                              : 3.40 GiB (100%)
Color range                              : Full
Color primaries                          : BT.709
Transfer characteristics                 : BT.709
Matrix coefficients                      : BT.709
Other
ID                                       : 1-Material
Type                                     : Time code
Format                                   : MXF TC
Frame rate                               : 25.000 FPS
Time code of first frame                 : 00:28:00:24
Time code settings                       : Material Package
Time code, striped                       : Yes