Hi all,
Really hoping someone can help me out of a jam. I just did a fresh install of DVD Architect 7 for a short notice project and overall have really liked the system (very similar to the Mac-based authoring software I've used in the past but was increasingly difficult to keep working on new hardware). Having access to scripting is a real boon (although we're not using any on this particular project)
Was able to get my project done with only minor learning curve hurdles - it previews fine, review gives no errors or warnings, and is well within space limits (22/25GB) - but when trying to prepare to an img I'm getting the constant error message: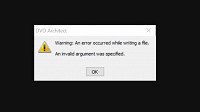 Warning: An error occurred while writing a file.
An invalid argument was specified.
Googling turns up some render errors from Vegas with that issue - but nothing for DVDA and so I'm facing a bit of a wall. I don't have any other Vegas products, we only need authoring - is DVDA rendering dependant on a different Vegas product installation?
FWIW all my media is already Bluray compliant MP4/AC3 from mac workflows - we're only using this windows machine for authoring.
The only rendering required for the project is menus - so I'm not sure what else I could do to work around this.
Any other suggestions would be *greatly* appreciated, as I'm fighting a ticking clock on this as it's an item for a live event that's fast approaching!