Hello everyone,
I've got a problem with DVD Architect. I made a 01:17:00 long project on Vegas Pro and made two renders:
Video: Mpeg-2, 25p (PAL), 25Mbits/s (3.3 gb)
Audio: Dolby Digital Ac3 (106 mb)
At this point, there is no problem. I opend both of them in DVD Architect and i made a menu, with chapters, etc. The idea was to burn it on a Bluray disc. At this stage, everything is okay.
The problem appeared when i went to render the Dar. project : The rendering takes too long. The first 1% appeared at "6 hours remaining"... the second percent at " 12 hours remaining"... It would take 600 hours to reach 100% !
I dont know how to fix it. The project size is 3.852 mb (3.8 gb) and it takes only 16% space on the BD-R (25GB).
My computer is a new one, i dont think that's the cause of the problem. It's a i7-8750 with 32gb RAM and a Nvidia RTX 2060. I'm using a external burner... but i can't even reach this stage because i have no issues with the rendering.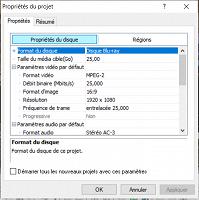 I really need your help ! Thank you.