I wanted to use Titles & Text to create a custom animation from the Default version. I saved it as a custom preset, then added it back to the Timeline. I was disappointed to find that the animations were gone, nothing of them remained.
Please fix this error, because I would like to create more custom animated text! Thank you!
I made this: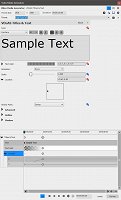 and after save and close, insert to Timeline again, and animations missing...