I am using a keyboard short (Ctrl+Num 0) to launch an action --E.g. show edit details window. While it works, it also displays the following window which was apparently designed for editing scripts.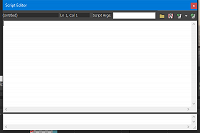 The solution seems to be to use another shortcut that doesn't use the Ctrl modifier key.
My questions. Where does it come from? And why does it pop up with certain shortcuts? Any way to avoid it? I have looked in the help files but could find no reference. Just curious.