@jetdv Edward, I'm wanting to get into scripting and I've made a little progress. However, I'm struggling with your tutorial on creating a form. The biggest problem is that I'm using Visual Studio 2019 which, in places is totally different to the version you are using. I managed to decipher the differences to get as far as adding the ScriptPortal.Vegas reference (which in VS 2019 appears to be called an Assembly). When I clicked Ok, an error window appeared.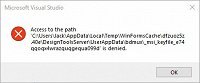 The debug window then showed that the Launch option had reverted to default.
As you can see, the reference had been added.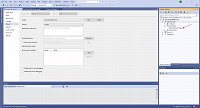 I carried on adding the code as per your tutorial. I then found that the form had disappeared from the design window.
I'd appreciate any help you can give.