Hi,

I just recently upgraded to Windows 10 Pro and suddenly in Vegas Pro 14 when I choose to preview my project on an external monitor the image shows up with a big chunk of it off the right-hand side of the screen. As the cliché goes, everything worked fine till the upgrade. Was running Vegas 14 on Win7 and it worked like a champ.

My system is running an Intel i7-8700K with a GeForce GTX 970 video card with the latest drivers. No other resolution issues with any other program so far.

Here's an example of what it looks like when I try the external preview;

I tried different variations of these settings and nothing changed. I set them back so they currently look like this.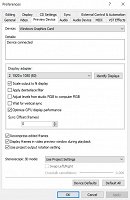 I also found a thread on another help forum where someone had nearly an identical issue and resolved it by setting the program to run in compatibility mode with Win8 and selecting it to run as admin. I tried this to avail as well (and changed the settings back). I've also reset Vegas despite it being a fresh install to make sure that base is covered also. Lastly, I've gone into Nvidia Control Panel and I played around with a few settings under resolution and 'desktop size and position'. Nothing changed.
I'm officially stuck.

Any help would be appreciated. Thank you.