Hello dear forum members, hopefully someone can help me.
I am missing the mp3 format in render As.
See screenshot.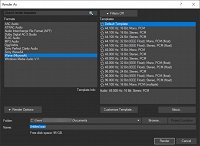 It seams some other formats are not there / missing.
I have tried few thing after some google search.
#Restarting my computer.
#cleaning the cache with starting up by holding Shift+CTRL.
#installing the software again.
So what am I doing wrong. :)
BTW I have WIN10 computer.