Hello, before starting I want to apologize if I commit any writing mistake, English isn't my mother tongue.
I got a Vegas Pro 17 license a month ago. Yesterday I was editing a video and I got a pop-up saying that there was an upgrade for my software, so I decided to upgrade it. Everything was ok until Vegas Pro got to open after the upgrade and my antivirus blocked the program. This happened when Vegas was charging the video plugins, and it froze.
I reinitiated the pc, deactivated Avast, activated it again... I found the list of applications Avast is blocking and today I removed Vegas from that list, but it still doesn't open. It freezes when charging the plugins and stays like that unless I close it. I can't use it and I'm worried because I need to use this software to make weekly videos.
It stays like this: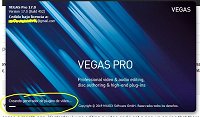 I use Windows 10, but I don't think it does anything to do with my problem.
If anyone can help me I would be super thankful.