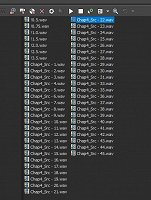 In the Project Media window, in List View, there is a problem when trying to select media items in the list. The first four items in the list select properly. When I hover and click on the fifth item, it selects the first item; I hover and click on the sixth item and it selects the second item, and so on. As a result, I can't select the last five items in the column. Same thing happens for the next column. If I want to select the bottom items in each column, I have to play with the window sizing until I can select my desired item by clicking below it in the list.
In the picture, I've clicked on the fifth item down in the list, Src - 27. If I click on 28, I get 23. If I click on 29, I get 24.
This does not happen in the Thumbnail View or in the Details View. I've tried changing Window Layouts, and it's happening consistently.
The only items in my Project Media are audio (wav) files
Vegas Version 17.0 (Build 284), Windows 10 Pro 1903 (Build 18362.295)
Radeon RX 570, Driver Version 26.20.13001.29010
NOTE: The same thing happens on a Microsoft Surface Pro 4.