I recently reinstalled Movie Studio 16 (Build 175), and entered the licensing information for NewBlueFX Filters 5 Recolor and NewBlueFX Filters 5 Recreate that came with Movie Studio Platinum when I purchased it.
But I see Boris FX trialware banners/logos all over Movie Studio, where it didn't used to be. For instance, I see FX logos in all of my Transitions thumbnails, even for the transitions that have been included with Movie Studio since Sony days.
But the worst thing I discovered, is that the Sony Titles & Text has a Boris trial watermark across it. See screenshot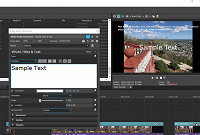 How do I get rid of that, as well as the BCC Video FX trial versions?