Hi members,
I am a new member here but have a licensed copy of vegas platinum 16 and 15 on separate machines.
My issue is this currently:
I am not able to use the platinum 16 on my windows 10 machine. Worked before but now crashes randomly. But will crash every time I right click in the 'EXPLORER' window to refresh files. Happens every time so I cannot really use the product.
Windows updates installed prior to this problem: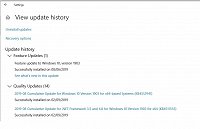 My PC specs:
i7 4770k (under-clocked slightly) - 16Gb RAM - 1080ti (not overclocked)
Anyone have a similar issue around the 2nd of September 2019? It seemed to have no issues before this time period.
I have submitted the error with details from the crash when it happened also. And I now have to use the version 15 platinum installed on my server so now have really slow render times!
Thanks!