Hi,
I was wondering if anybody else has seen this error. I've been using Vegas Pro 16 all week and it's been fine but this morning the UI in for audio fx panels are now displaying in 'hot pink'. Here's an example of what I'm seeing: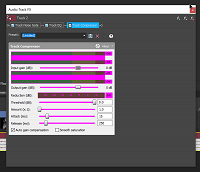 I still have Vegas Pro 15 installed so I checked there and the audio effects panels are 'hot pink' there too. This tells me that something shared between the programs has changed but I can't figure out what that could be.
I did update Acid Pro to the latest this morning but I wouldn't think that would change anything in Vegas Pro.
I noticed there is a recent patch for Vegas 16 I don't have, so I'm going to try that. in the meantime, if you know what causes this problem, please post.
Thanks in advance for any helpful info!