🙂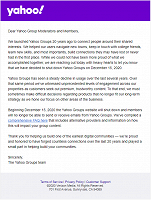 https://help.yahoo.com/kb/groups/SLN35505.html?impressions=true
https://sea.pcmag.com/website-app-building-tools/39607/final-nail-in-the-coffin-for-yahoo-groups-lands-dec-15
https://www.theregister.com/2020/10/13/yahoo_groups_shutdown/
The Yahoo Mail will still continue, not affected...
but anyway, one special thing of inside Yahoo Groups is, there's one group for Vegas users called 'socalvegasusers' (SoCal Vegas Users group) and that's the first group I personally joined to learn further of Vegas 4 or 5.
https://groups.yahoo.com/neo/groups/SoCalVegasUsers/info
Description:
The SCVUG is the first and largest established group of Magix Vegas Pro Video Editing Software Users with over 2064 worldwide members. The SoCal Vegas Users Group was founded in Los Angeles in 2003 and has grown into a Worldwide Magix Vegas Pro Users Group. The SCVUG Message Board Forum contains over 21,000 Magix Vegas Pro and video editing related Q&A message posts that are fully searchable. You can find quick answers to questions relating to all Magix Vegas Pro Versions including the New Vegas Pro 16. Video editing software as well as discussions on all Magix Software Products and applications like Magix DVD Architect, Magix Vegas Movie Studio, Sound Forge, Acid Pro and many third party video editing applications software and products. Membership in the SCVUG is open to all video editors worldwide and those who are interested in learning Magix Vegas Pro video editing software and sharing your knowledge of video editing in this great community.



Jay Mitchell
Founder / Moderator
Wonder who are here that once also belong to socalvegasusers group?