I recently noticed that when I download a live streamed video from Vimeo as a 1080p video, when imported into Vegas20 the audio file imports fine but the video is just a tiny sliver.
If I run that video through FFMPEG with the copy option (e.g. ffmpeg -i myvideo1080pvideo -vcodec copy -acodec copy newfile.mp4 ... that opens perfectly in Vegas.
Anyone else run into this?
Here's the file as downloaded from VIMEO: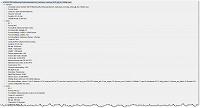 Here's the file after FFMPEG:
I'm happy to post more MediaInfo info if it's helpful..