I'm super excited when VEGAS Creative Software announce that they will releasing 2 new software, VEGAS Effects & VEGAS Image under VEGAS POST (Including VEGAS Pro 17).
I think we all know VE is a rebranded software from Hitfilm Pro, but I feel VE is very-very limited right now compared to Hitfilm Pro.
Here I'm doing argument reality VFX on my phone, but I cant have the layer expand beyond the screen as the 4 point tracked data is tracked inside the screen. Tracking the points by points for this argument reality VFX is a tedious & nuisance method. The proper way is to use 3D Camera tracker so that the object will rotate/tilt base on the phone orientation. VE dont have any 3D tracking camera like Hitfilm Pro (FXHome uses Sonic Foundry 3D Camera Tracker, similar to AE back in the old days)
Will VE have the same 3D camera tracker in the future?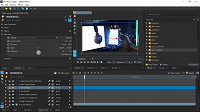 Tutorials for the same VFX but with AE

Centering an object like Plane is super easy, just use the layout panel to reposition/align the object. But not for mask. Surprisingly all Hitfilm Pro software have no ability to realign the mask to center. Idk if VEGAS Creative Software can modify VE or not, even the recent update are base on Hitfilm Pro. The only option I see is the use the gird and trying to guess if it center or not. You can align mask, object, shape & everything in AE. (Or maybe idk the way of doing it?)
Maybe this one is a bit too ambitious, but idk if VE will acquire Mocha for rotoscoping like Hitfilm Pro, maybe the pricing will be diff idk. Might affect the pricing. But all of these features is a must have in a compositor software.
I used to work with After Effects. all of the shortcut, GUI is much more clean & faster compared to VE/Hitfilm Pro. Doing keyframing in VE is kinda tedious, I have open entire layer just to animate certain keyframe. You have dedicated shortcut in AE just to open that specific keyframe timeline which is super handy. But I remembered someone told me its kinda impossible to have that kind of feature/shortcut in Hitfilm Pro as the software will have confusion to read the shortcut key & might interfere with existing key.
The most important stuff, Dynamic Link. Trust me, if VE & VP have this kind of integration, more people will interested with VEGAS POST.