I'm grasping at straws here given the similarities of the interfaces but what do I know???
on my laptop, VMS14 Platinum trial installed and opens without issue, VP15 trial refuses to fully load - crashing on "drawing Windows"?
This is what the lock up on the start of VP15 trial looks like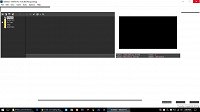 I've updated the graphics drivers, made sure all Windows updates are current - Uninstalled all plugins (SeMW latest, Neat Video, etc) but it hasn't made any difference. I've uninstalled, cleaned the registry of all entries for VP15, etc and reinstalled 3 times now with no change on crashing. Installed on my desktop first time without much issue.
Anyone else having issues installing on older laptops (Dell Precision M4500, i7 Quad core, 16GB RAM, Quadro FX880M) - works great with VMS14 Trial and VP13 - not sure what else to try to get VP15 working to test on my laptop. I put a support ticket in yesterday and so far no response.