I'm about to upgrade my GPU to the latest RX470 4GB (PCI Express 3 slot), install on my old Mainboard Intel DX58SO2 (PCI Express 2 slot) replacing my old Radeon HD5750 1GB.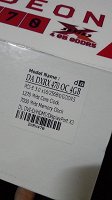 Unfortunately, when turned on, the monitor only turn on very few seconds during startup, and then turn off again.

> On this recorded demo, the boot up got halted by BIOS notification that last booting didn't complete and asking to go into BIOS or just go with last-saved BIOS setting. If not halted by BIOS notification, the booting will go all the way into loading Windows 10, and you will know about it when hearing Windows Start up.
I'm afraid that the mainboard is too old and not able to support this new GPU 😭 - but want to hear any recommendation for this or perhaps alternative video card with 4GB (AMD preferred) that able to support this old mainboard. (I'm not ready to invest a whole new system that include a full mainboard replacement - Not Now! 😱)