I've just paid for MS 16. The screen shot shows the point just before it stops loading.
I know there is a more recent version of MS 16 but I am unable to update unless I can launch the original. Catch 22 :-)
I've tried installing it on my reserve system but as I am already registered I cannot proceed.
Movie Studio 15 runs perfectly on my system.
Any advice would be greatly appreciated.
Thank you.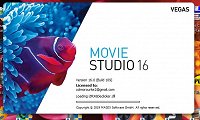 OS  
    Windows 10 Pro 64-bit
CPU
    Intel Core i7 @ 4.00GHz
    Skylake 14nm Technology
RAM
    16.0GB
Motherboard
    Dell Inc. 0XJ8C4 (SOCKET 0)
    %1 Chipset
Graphics
    SONY TV (1176x664@60Hz)
    4095MB NVIDIA GeForce GTX 980 (NVIDIA)  
Storage
    1863GB Seagate ST2000DM001-1ER164 (SATA)  
    476GB SK hynix SC308 SATA 512GB (SSD)