Hello Brains Trust 🤓
A member on my forum has drawn my attention to some unexpected behaviour in Vegas, which I have never noticed before today.
https://www.moviestudiozen.com/forum/movie-studio-platinum/2223-how-to-set-transition-lengths-to-2-00-seconds
The basic problem is that the time entered for the length of Transition, is shifting by exactly -1 video frame, when adding multiple pieces of media to the timeline.
I did some testing in Vegas Movie Studio Platinum 14, 15 and 16 and also Vegas Pro 14, 15 and 16.
All 6 versions of Vegas are exhibiting the same behaviour.
I would like to know if this is deliberate for a specific reason OR a bug in Vegas ?
Steps to replicate problem:
1. Go to Options/Preferences/Editing
2. Turn ON Automatically overlap multiple selected media when added
3. Set Cut-to-overlap (seconds) = 2.000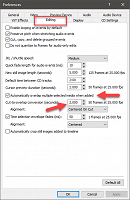 4. Import 2 or more videos onto the timeline as a group
I would expect to see an exact 2.000 second overlap, but instead Vegas is shaving off 1x frame of video.
In my example below, the Project is set to 25 fps.
The overlap is calculated as 1 second and 24 frames.

With the Timeline Ruler set to Time only, the Time is reporting as 1.961 instead of 2.000

Regards
Derek