Hello!
I recently built a new PC (CPU: AMD Ryzen 5 5600X, GPU: AMD Radeon RX 6750 XT with latest driver version 22.11.2, OS: Windows 10 LTSC 21H2) and have Vegas Pro 18 installed.
However, Vegas launches (in compatibility mode) and stops working, leaving an error message:
Problem Description
   Application Name:    VEGAS Pro
   Application Version: Version 18.0 (Build 527)
   Problem:             Unmanaged Exception (0xc0000005)
   Fault Module:        C:\Windows\SYSTEM32\d3d9.dll
   Fault Address:       0x00007FFD819F7113
   Fault Offset:        0x0000000000057113

Fault Process Details
   Process Path:        C:\Program Files\VEGAS\VEGAS Pro 18.0\vegas180.exe
   Process Version:     Version 18.0 (Build 527)
   Process Description: VEGAS Pro
   Process Image Date:  2021-05-03 (Mon May 03) 22:45:44
I already tried to install Direct X end-user runtime but it said my DX was the latest version.
Any help? Thanks!
Something I would like to mention:
This happens on launching & showing a "splash screen", saying "Creating windows...".
If it does not run in compatibility mode, Vegas Pro shows the "splash screen" and it just disappears, without leaving any error message.
I also have a Vegas Pro 14 (Steam version), and my VP 14 has a similar issue. However, it CAN run in compatibility mode but stops working when I click "Render" button, giving a same "Unmanaged Exception (0xc0000005)" error, fault module is same "C:\Windows\SYSTEM32\d3d9.dll".
Windows update has been disabled before driver installation (and no any update after). So I think my AMD GPU driver is OK, not damaged or modified by Windows update.
Update:
My steps to find out what's wrong:
Occasionally found this post (https://www.vegascreativesoftware.info/us/forum/faq-vegas-pro-won-t-start-what-can-i-do--104784/), and tried most of them, didn't work.
After I tried No. 7 "CLEAN BOOT" but still it didn't work, I noticed that I could try Windows Safe Mode.
What surprised me was that Vegas Pro 18 DID WORK in Windows Safe Mode. Then there must be any third party software or service that stopped Vegas from launching. The answer is the OSD (an overlay function) in GPU Tweak III (Asus' GPU overclocking software).
Simply exit GPU Tweak III (or turn off its OSD) and Vegas Pro 18 works.
Just some annoying glitches that buttons sometimes blurred: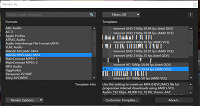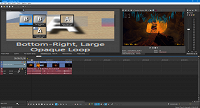 Don't know what causes these glitches, but at least Vegas now works.