Vegas Pro's OFX system is too old to compare with most other competitor's OFX system. Like Resolve, Hitfilm Pro editing section, and so on.
If Vegas maintain its old outdated OFX system, less and less high-end plugin will support it.
For instance, FilmConvert Nitrate OFX v3.01 can't support Vegas Pro,
For instance, BCC Title Studio Preview window can't acccess Vegas Pro's all tracks as background.
For instance, Sapphire's handy control overlay can't draw in Vegas Pro's preview.
What should Vegas Pro upgrade? :
1. Vegas should upgrade feature drawing control overlay in preview window like what most other OFX competitors do :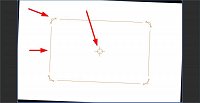 2. Vegas should make event fx access all other track's frames so that plugin's function can be improved. Such as BCC title Studio can access all beneath tracks as background in Avid, Premiere.
3. Vegas should upgrade OFX keyframe curve to true Bezier keyframe curve graph, not its current fake OFX keyframe curve:
4. All ofx plugins have a thumbnail icon, Vegas Pro should show them: