When mp4 with 5.1 audio added on time-line audio shown on 6 audio tracks: each front and rear stereo channels displayed as two mono audio channels. It should be 4 audio tracks: front stereo, centre mono, LFE mono and rear stereo.
There is no issue if so4 is disabled in internal preferences.
First time I noticed the issue in VP15 a few years ago. I disabled so4 and forgot about it.
I was surprised that the issue still exists in VP17. I have not noticed it straight away as I disabled so4 in VP17 after installation. When I played with enabling/disabling so4 the issue was re-appeared and @Marco. reminded about it.
Steps to re-produce:
1. Create a new project
2. Put M2TS with 5.1 audio onto time-line (you can use my sample file). You will see video track and 4 audio tracks: front stereo, centre mono, LFE mono, rear stereo. Optionally you can normalize audio to better see waveforms: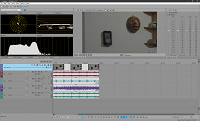 3. Render it to MP4 using Sony AVC (just an example, I do have the issue when I use other encoders)
4. Create new project
5. Put MP4 file you just created on step 3 onto time-line. You will see video track and 6 audio tracks: two front mono, centre mono, LFE mono, two rear mono: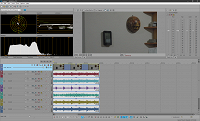 6. In internal preferences set "Enable so4 compound reader for AVC/M2TS" to FALSE, restart VP and repeat steps 4 & 5. You will not see the issue. Audio will be displayed on 4 tracks. M2TS will work fine as well.
Can anyone confirm the issue?
Thanks.
P.S. Reported, Ticket#2019122017001561