If you apply a video effect (FX) in VEGAS Pro, and do not see any change in the video preview window, try these suggestions:
1. SPLIT SCREEN VIEW BUTTON
Check the status of the Split Screen View button above the Video Preview window. This button allows you to bypass video effects for half the preview, or all of it. In VEGAS Pro 15, when FX are not bypassed, it looks like this:
When FX are bypassed it looks like this (by default):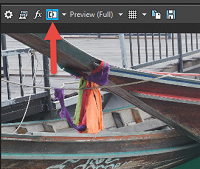 2. NVIDIA / INTEL GRAPHICS CONFLICT
There is an issue whereby the effect of FX and text adjustments may not be shown in the Video Preview window until the FX control window is dismissed, under the following conditions:
The PC has both integrated Intel graphics and discrete NVIDIA graphics, and
The NVIDIA driver version is later than 382.53, and
The NVIDIA GPU (rather than Intel graphics) has been chosen as the preferred graphics processor for VEGAS Pro, and
The NVIDIA GPU is selected in GPU acceleration of video processing.
 
To resolve this issue, try one of these 3 suggestions:
[**UPDATE: From Windows 10 version 1803 (April 2018 Update) it is possible to set which GPU an app should use. That may be a better option than following the advice below**]
Roll back your NVIDIA graphics driver to version 382.53 or earlier. Drivers can be searched at this link: http://www.nvidia.com/Download/Find.aspx?lang=en-us Driver 381.89 has been successful for some. [UPDATE: Also reportedly fixed with driver version 399.07 or later]
On a laptop, open VEGAS Pro using Intel graphics as follows (this doesn't work on a desktop PC):

Open the NVIDIA control panel (e.g. by right-clicking on the desktop).
Open Manage 3D Settings and select the Program Settings tab.
Choose VEGAS Pro in the "Select a program to customize" menu or add it if it is not there.
Choose Integrated Graphics in the Preferred Graphics Processor drop-down menu, then Save.
If you still wish to use GPU acceleration of video processing in VEGAS Pro, choose Options > Preferences > Video and select your NVIDIA GPU for GPU acceleration of video processing.

On a desktop PC that has both integrated Intel graphics and discrete NVIDIA graphics:

Enable Intel integrated graphics in the BIOS, if they are disabled (instructions for ASUS motherboards).
Attach your main monitor to the motherboard connector, not NVIDIA GPU connector.
If none of those suggestions work for you, please make a new post on the VEGAS Pro Video forum, giving the information requested in this post.